Overview
This section provides an example of local coastal governance in the case study area of Kristianstad.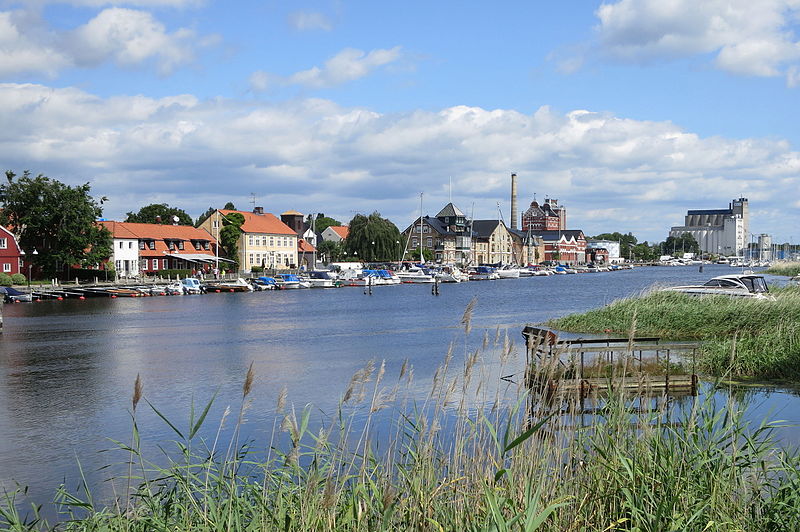 Governance of coastal zones and disaster risk 
Coastal protection and management
As of February 2017, Kristianstad municipality does not have a comprehensive strategy for planning and managing the coastal zone and sea areas at flood risk. However, the Kristianstad municipality is participating in the national process for developing marine spatial plans. The City Planning Office has primary responsibility for this process, in cooperation with other municipal bodies, such as the Executive Office (Kommunledningskontoret), the Technical Department (C4Teknik), the Environment and Health Office (Miljö- ochhälsoskyddskontoret) which are also backed by their respective committees and other relevant departments.
Flood risk management
As noted in the overview of governance in Sweden, the primary responsibility for flood risk, preparedness and safety is at the level of the Kristianstad Municipality. In compliance with the EU Floods Directive 2007/60/EU, Sweden conducted a Preliminary Flood Risk Assessment (PFRA) in 2011. The PFRA identifies 18 areas at high risk, with Kristianstad at the top in terms of number of people at risk. Flood hazard and risk maps for Kristianstad have only been produced for the inner city area and floods stemming from the River Helge (MSB, 2013). The Flood Risk Management Plan was also only produced for the inner city of Kristianstad and not of the coastal area (Länstyrelsen Skåne, 2015).  
Civil protection and disaster risk reduction
Civil protection responsibilities for risk, preparedness and safety chiefly lie at the local level in Sweden. Municipalities have a large degree of autonomy in land use planning and prevention work in accordance with the national-level Civil Protection Act. In Kristianstad, the municipal level has taken active initiative for coastal defence.
At regional level, the County Administrative Boards are responsible for coordinating civil emergency planning activities. This includes training, risk analysis related to land use, dissemination and liaising between public and private stakeholders. The Boards provide continuous support to municipalities in the fields of contingency planning, exercises and training. During a crisis, the Country Administrative Board supports the municipality and may even take over responsibilities for rescue operations.
Engagement of non-state actors in coastal governance 
Storms have been a trigger for collaborative action in Kristianstad and Åhus. Already in the forecast stage actors mobilise and storms are an opportunity for collaboration between many actors. Formal authorities as well as volunteers and groups from the private sector engage at local, municipal, and regional level. Many voluntary organisations and military personnel are also mobilised and organised to respond increasing available resources and reducing recovery time. 
One of the most active groups in coastal protection is homeowners in the hotspot of Äspet whose properties are directly impacted by erosion. Eel fishermen and their huts which are classified as protected cultural heritage sites are located along the beach in the coast of Kristianstad are also active stakeholders. 
The Eel Academy is an important cultural institution that arranges seminars and lectures around the culture of eel fishing for the public. The academy was created to protect eel stocks and fishing traditions. This is done through knowledge sharing and lobbying activities.The Eel Academy also serves more generally as a forum for work on ecosystem services and coastal management, as they touch on society, culture, economy, conservation and science.
Among the medium-size and large companies located in Åhus are
Absolut Vodka, whose entire production is shipped worldwide from Åhus
Knauf Danogips GmbH, which produces construction material and has a warehouse close to the port
Svenska Foder Syd, which produces and stores animal feed close to the port
Åhus Hamn, which are the port authorities and manage all the infrastructure
Stakeholder perceptions of governance 
The graphic below provides a snapshot of how governance in Kristianstad is perceived by those living and working in the area. The responses are the result of  in-depth interviews conducted with 10 coastal stakeholders from seven stakeholder groups (SH1,2,3,4,5,6,7) presented in the list on the right. Interviewees who commented on the mode of governance are plotted on the graph on the left. As these interviews come from only one type of stakeholder group, they are not representative, but provide a snapshot of local opinion.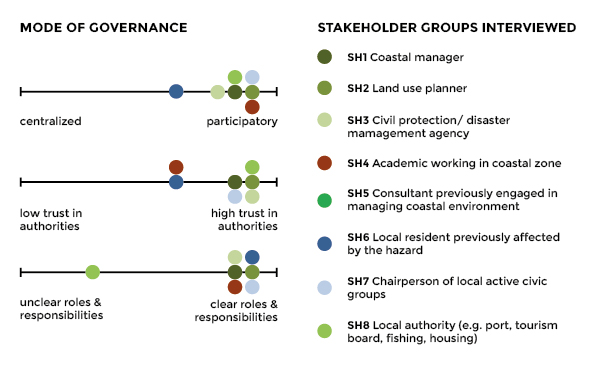 Coastal planning processes in the coast of Kristianstad involve a prominent participatory element, especially for civil society organisations (see below). This model of cooperation has resulted in high trust in authorities, who are perceived as representing the interests of a wide variety of stakeholders. In addition to an active civil society and environmentally-conscious local residents, stakeholders perceive Kristianstad as having clear roles and responsibilities in coastal governance.
The interviews revealed a discrepancy between the municipal responsibility for flood risk and DRR and their capacity to act. Local infrastructure needs (e.g. sinking embankments) and provision of equipment to respond to flood events were not seen to be supported with adequate resources from the central government. Municipal taxes were seen to be insufficient for the local authorities to effectively reduce and respond to the high levels of flood risk in Kristianstad.
Central government needs to help equip municipalities
Others voiced additional concerns about the distribution of funding, where larger towns are prioritised over small villages.
Municipal authorities have their own political priorities
Property owners had the perception that the authorities are not interested in helping protect private property from coastal erosion. However, homeowners settled on the coast of Kristianstad are considered the most well-off portion of the population. Especially since some of these are summer residences, authorities argue they cannot justify spending the public tax budget to ameliorate the risks. But the issue is complex in cases where beach access is restricted. 
Homeowners are stuck between a rock and a hard place
Although municipal authorities are recognised as the responsible authority for infrastructure and other vital functions, many interviewees remarked on the important role that the individual and community play in DRR. Civil society in Kristianstad is very active and interviewees made multiple references to the activities of a wide range of non-state actors, highlighting the importance of participatory and collaborative projects.
Nature protection associations come up with business solutions
These civil society fora are especially important for cooperation and building consensus. Although finding common solutions in this context can be challenging, in general agreement can be found. 
Politicians and environmental experts often have to find middle ground
At the municipal and regional levels, there are a great deal of coastal DRR projects and collaboration. For example, there are some risk mapping done by MSB. But there is also room for improvement. One interviewee claimed the municipality of Kristianstad still lacked a coherent strategic plan for the future and sees a risk of taking too narrow perspectives. 
Policies for coasts and disaster risk
For an overview of relevant policies for coastal protection and disaster risk reduction in Kristianstad, please see the Swedish overview. 

References
Länsstyrelsen Skåne (2015). Riskhanteringsplan Översvämning av Helge å i Kristianstad tätort. https://www.msb.se/Upload/Forebyggande/Naturolyckor_klimat/oversvamning/Riskhanteringsplaner/Kristianstad.pdf 
MSB (2013). ÖVERSVÄMNINGSKARTERING UTMED HELGE Å Med detaljerad översvämningskartering för det identifierade området med betydande översvämningsrisk, Kristianstads-området https://www.msb.se/Upload/Forebyggande/Naturolyckor_klimat/oversvamning/Oversvamningsdirektivet/Rapporter/Helge%C3%A5_Kristianstad.pdf