Overview
Spain has a coastline on the Atlantic Ocean and on the Mediterranean Sea. Around 60 % of the population (27.698.114 inhabitants) live in coastal regions1, as compared with the EU-28 average of 42 % (Eurostat, 2015).2 31 of Spain's 59 provinces (Provincias) are coastal (see Figure 1).
FIGURE 1: MAP OF ADMINISTRATIVE REGIONS IN SPAIN AT NUTS-3 LEVEL3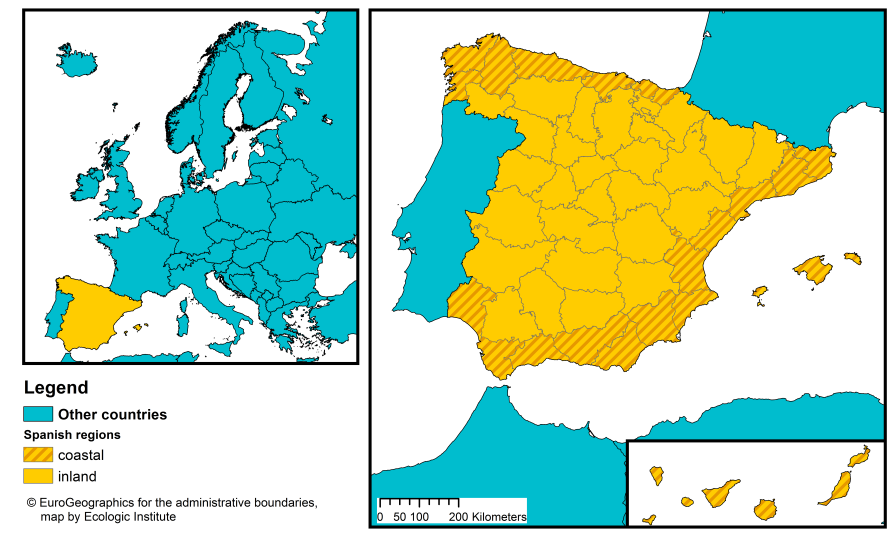 Spain's power structure is highly decentralised. Since the adoption of the Spanish Constitution in 1978, it has consisted of three primary and distinct levels with differing competencies: National (NUTS-0 level), Autonomous Communities (Communidades Autónomas) (NUTS-2 level) and Municipal (LAU-2 level). Provinces (NUTS-3 level) primarily act in a coordinating role. The Autonomous Communities, the Provinces and the Municipalities each have a range of different competences. The freedoms of the Autonomous Communities are often coupled with strong regional identities which can lead to conflicts and power struggles between centre and periphery.
TABLE 1: OVERVIEW OF TERRITORIAL DIVISIONS IN SPAIN USING NOMENCLATURE OF TERRITORIAL UNITS FOR STATISTICS (NUTS) and loCAL ADMINISTRATIVE UNITS FOR STATISTICS (LAU). SOURCE: GADM database, version 2.8, 2015 and Euro Geographics, 2013
NUTS level
Name
Total units
Coastal units
NUTS 1

Grouping of autonomous communities and cities

(Agrupación de comunidades autónomas)

7
5
NUTS 2

Autonomous communities and cities

(Comunidades y ciudades autónomas)

19
12
NUTS 3

Provinces (+ Islands + Ceuta + Melilla)4

(Provincias (+ islas, + Ceuta + Melilla))

59
31
LAU 2
Municipalities (Municipios)
8125
4875
Depending on the topic, consultation with non-state actors can be institutionalized through advisory bodies, and ministries regularly exchange with important economic and social actors from the public sector (other ministries, autonomous regions, parties) and private sector (e.g. business associations) (Molina et al. 2016). Trade unions, major employers' and sectoral associations (e.g. fisheries and farming) discuss and accompany policymaking with substantive activities such as training and policy proposals, although in the end these are rarely influential on the official policy process (Ibid.).
GOVERNANCE OF COASTAL ZONES AND DISASTER RISK
Coastal protection and management
The central government and autonomous regions have exclusive or shared competences for a wide range of issues which affect coastal zone management, ranging from urban and spatial planning to biodiversity, water quality and tourism. Urban development and spatial planning for example are entirely within the remit of the Autonomous Communities, and central government cannot legislate on them (Fariña Tojo and Naredo, 2010).
The Ministry of Agriculture, Fish, Food and Environment (MAGRAMA) is the chief government body responsible for the protection and regulation of use of the Maritime-Terrestrial Public Domain (DPTM). Within the Ministry of Environment, the General Directorate for the Sustainability of the Coast and the Sea is the key body for this activity and is tasked with coastal sustainability and conducting integrated coastal zone management in line with EU Recommendation (2002/413/EC) on Integrated Coastal Zone Management. The Directorate General for Coasts works closely with the Secretariat General for Territory and Biodiversity, also based within the MAGRAMA. Although sectoral activities within the Maritime-Terrestrial Public Domain  (e.g. tourism, fisheries, transport) are managed at the national level by the relevant ministry, these activities are subject to permits granted by the Directorate General for Coasts.
In the coastal zone there is an overlap in a number of areas as powers for coastal management are shared among the various levels of administration. As such there is an important need for coordination between the different levels. This is particularly the case for the country's 487 coastal municipalities that have important competences in town/land planning and use and which ultimately bear the effects of such management decisions (Ministerio de Medio Ambiente, 2006).
Spain has a number of management and advisory bodies to facilitate integration between sectors and different administrative levels involved in coastal management. These bodies also help to create a formal structure for the participation of actors from the private sector. These include Port Authority Boards, the National Commission for Nature Conservation and its different committees, the Environment Advisory Council, National Water Council, National Fisheries Council, and the Fisheries Advisory Committee.  
Flood risk management
The central government and Autonomous Communities have shared competences for the application of the EU Floods Directive (Directive 2007/60/EC). The elaboration of risk maps for coastal floods along the Spanish coastal zone was conducted by the environment ministry (MAGRAMA, 2013) which has jurisdiction over the Maritime-Terrestrial Public Domain (DPTM). On the other hand, the delineation of areas at risk from river flooding is the responsibility of the autonomous governments at NUTS-2 level. Spain has complied with the implementation timeline for the Directive and has conducted its preliminary flood risk assessment (2011) which were based on an extensive analysis of records, reports, studies, (emergency) plans, press clippings, interviews and surveys. Spain was the Member State to report the highest number of historical flood events (6441) with 6165 (95.7%) with significant consequences (DG Environment, 2012). Spain has also prepared its flood hazard and risk maps (2014) and its flood risk management plans (2015/16). For details of Floods Directive implementation in Spain and other EU Member States, please read the RISC-Kit comparative assessment of Member State implementation of the Floods Directive.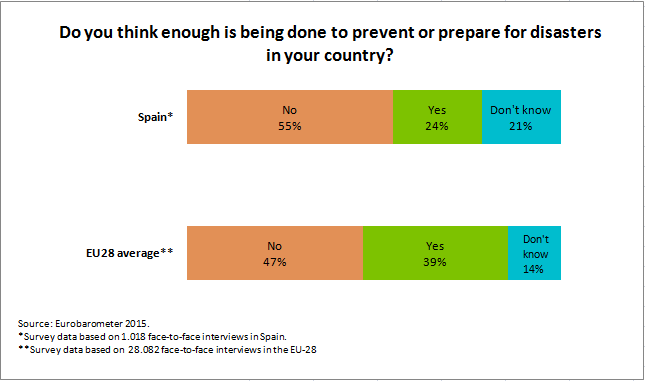 Disaster risk reduction
In Spain, the highest authority in civil protection matters is the Ministry of the Interior. However, most competencies in civil protection are entirely within the remit of the Autonomous Communities and municipalities.
Each autonomous community has a Civil Protection Unit that is responsible for civil emergency response. The regional authority, which may be Civil Protection or Emergency Commission, is the body responsible for liaison and cooperation and the 112 service as an operational management centre.
Within the Ministry of the Interior, the Directorate General of Civil Protection and Emergencies is the executive centre that leads the civil protection infrastructure and its representative delegation in sub-national administrative units. It is supported by the Sub-secretariat of the Interior in exercising civil protection powers and responsibilities.
The Delegate Commission of the Government for Crisis Situations (or, Crisis Cabinet) directs and coordinates all actions related to the prevention and high-level management of crises. The main decision maker is the Prime Minister, followed by the Deputy Prime Ministers.
Supporting the Crisis Cabinet in planning and implementation is the National Civil Emergency Planning Committee (NCEPC). The NCEPC is in charge of mediating between the Crisis Cabinet and Sectorial Committees in preparation planning and coordination. This planning includes issuing directives for handling different emergency scenarios. It is also responsible for periodically informing the Crisis Cabinet about the national state of preparedness.  
Policies for coasts and disaster risk
The following section examines some of the specific policies for coastal management and disaster risk reduction in Spain.
TABLE 2: OVERVIEW OF KEY POLICIES FOR COASTAL MANAGEMENT AND DISASTER RISK REDUCTION IN SPAIN
Type
Policy
Description
Civil protection
Civil Protection Act 2/1985 (LPC)

states that the national government is responsible for civil protection as a public service, and that its powers may be devolved to lower administrative levels
designates the national government as playing a chief coordinating, rather than operational, role
establishes permanent collaboration between the authorities and NGOs such as the Red Cross
allows local authorities to create their own civil protection plans, so long as they abide by the standards set forth in the Basic Regulation

Basic Civil Protection Regulation

states that local protection plans are to be drawn up by local authorities and created according to the planning framework at the given territorial level; the plans can be organized by administrative level or by sector
describes the kinds of emergencies that trigger the involvement of the national government, including those that affect more than one region and thus require coordination of different government authorities

Coastal management
Coastal Law

serves as the only legal instrument specifically designed to protect and spatially regulate uses of the public coastal domain
defines the landward and seaward limit of MTPD, an area where housing and certain other kinds of development are forbidden

Strategy for Coastal Sustainability (SCS)

implements coastal interventions under the principles of Integrated Coastal Zone Management (ICZM)
involves the most relevant public and private local stakeholders and promote coastal policy integration across levels
serves as a coastal planning instrument to address policies within the coastal zone, as promoted by the Ministry of Environment
FOOTNOTES
1 An EU coastal region is a statistical region of the European Union, at NUTS level 3, defined according to one of the following three criteria: 1. The region has a sea border;: 2. The region has more than half of its population within 50 km from the sea; 3. The region is Hamburg. (The German NUTS 3 region of Hamburg does not correspond to the above 2 criteria but has been added to the list of EU coastal regions due to its strong maritime influence). Source: http://ec.europa.eu/eurostat/web/maritime-policy-indicators/methodology, last checked: 14.09.16
2 Only territories within the European continent are included EUROSTAT list of coastal regions (COAS_NUTS3.xlsx), received on 15.09.2016, combined with EUROSTAT population data for NUTS-3 regions [demo_r_pjanaggr3], last updated on 07.09.2016
3 NOMENCLATURE OF TERRITORIAL UNITS FOR STATISTICS
4 Eurostat information has been used for the purposes of comparison between countries. Spain's national institute for statistics (INE) applies a different methodology for counting the number of regions: http://www.ine.es/jaxiT3/Datos.htm?t=2852 
5 Source: Ministerio de Medio Ambiente (2006).
REFERENCES
DG Environment. (2012). Assessment of data and information reported by Member States on their Preliminary Flood Risk Assessments and identification of Areas of Potentially Significant Flood Risk under the Floods Directive Member State Report: Spain. http://ec.europa.eu/environment/water/flood_risk/pdf/pfra_reports/PFRA%20Report%20-%20ES.pdf 
Fariña Tojo, J., and Naredo, J. M. (2010): White Paper on Sustainability of Spanish Urban Planning, Ministry of Housing, Government of Spain. April 2010. http://habitat.aq.upm.es/lbl/a-lbl.en.html
Ministerio de Medio Ambiente (2006): Integrated Coastal Zone Management in Spain. Report by Spain in fulfilment of the requirements of Chapter VI of the Recommendation of the European Parliament and the Council concerning implementation of ICZM in Europe. 2006. http://www.mapama.gob.es/es/costas/publicaciones/Informe_GIZC_Spain_enviado_tcm7-30301.pdf
Molina, I., Homs, O., Colino, C. (COORDINATOR) 2016. SUSTAINABLE GOVERNANCE INDICATORS: SPAIN REPORT. BERTELSMANN STIFTUNG.