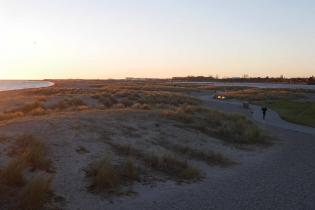 Amager Beach is a constructed island in the southern part of Copenhagen. It was built between 2004 and 2005. It not only serves recreational purposes for the local population, but is also a coastal defense structure to protect the main coastline. This artificial approach is a very good example of combining ecosystem based approaches with coastal defense aspects.
Amager Beach is an artificial island in the southern part of Copenhagen. It was built from 1.5 million cubic meters of raw material, mainly because the old beach had "required almost annual additions of sand to keep it from disappearing into the shallow waters of the Baltic channel" (Cohen 2010: 124). Now, it is a recreational area, which can be used all year round. The island is 2 km. long and the lagoon is 400 m. at its widest point. In the northern part of the island, a more natural landscape with sand dunes can be encountered. In the south more park-like elements are installed. There are facilities for playing beach volley, surfing, flying kites or swimming. It is very clear that the simple concept of the Beach Park and its unique features provide a great setting for continued development of activities and architecture in the area (HOGK 2013). "In its new locale, Amager Beach is self-preserving because the waves are large enough to pull the sand both onto and away from the beach" (Cohen 2010: 124).
Between 2004 and 2005 the island was built and the city of Copenhagen invested 25 million euros to develop a piece of 'engineered nature'. The project was based on an open dialogue with various stakeholders: focus groups, interest organisations and local users were involved in a continuing effort to develop the project's qualities (HOGK 2013). This is an example of how water attracts resourceful residents and businesses, making this area an attractive address in Copenhagen (State of Green). It shows that ecosystem based approaches can be very cost-effective.
Relevant case studies and examples
Literature sources
Cohen, Nevin (2010): Green Cities. An A-to-Z Guide. SAGE Publications, 576 p.